Food drives are incredibly important in helping us keep our pantry shelves stocked year round with non-perishable items.
SACA can provide barrels for your business, organization, or school to collect non-perishable food and assist with transporting the food to SACA.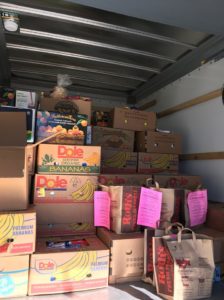 Common food items to collect:
canned soups and chilis
tuna and canned meats
canned beans
canned vegetables
cereal
rice
dried beans
baking products
pasta/mac and cheese
If you are interested in hosting a food drive for SACA, please email Russ at russ@silvertonareacommunityaid.org or call us at 503.873.3446.
SACA volunteers help us meet our mission of providing food, services and access to community resources every day. We love our volunteers and know it's because of them that we are able to serve our community so well.
Some of our ongoing volunteer opportunities include:
Engaging with clients to find out their needs
Filling food orders and bringing out to clients
Helping people shop through the pantry
Sorting food donations and checking dates
Restocking shelves and freezers
Cleaning, disinfecting, and organizing
Paperwork and other administrative projects
Special projects
Professional services (like web design, marketing, construction)
Helping with special events (like the annual food drive)
*COVID-19 has changed how some of our volunteer opportunities work. Volunteers are required to wear a mask and practice social distancing. Some of our volunteer opportunities can be done when we are closed and fewer people are in our work spaces. Because of COVID guidelines and space, we may limit the number of people in a group of volunteers.
Individuals, families, and groups are all encouraged to volunteer. We also offer community service opportunities. To learn more about current and upcoming volunteer opportunities, please email Krista at krista@silvertonareacommunityaid.org or call us at 503.873.3446.
Neighborhood Food Project
A simple system that really works.
The Neighborhood Food Project is an innovative, new way to fight hunger in our community. You want to help. We make it easy.
It's all in the power of One Green Bag.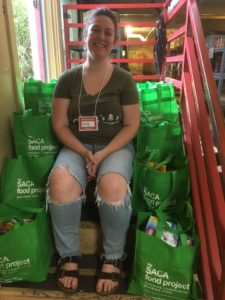 EVERY 2 MONTHS—on the second Saturday of every even month—our Neighborhood Coordinators pick up green bags filled by Food Donors who have left them outside their front doors. They leave empty bags for next time, and bring all the food to SACA. It's that easy!
Food Donors: Fill a green bag with non-perishable items over 2 months, and put your filled bag on your front porch on Food Project days. It's about 15 minutes of work, every other month, 6 times per year!
Neighborhood Coordinators: Pick up Food Donors' filled green bags from their porches and deliver them to SACA on Food Project days. It's about an hour of work, every other month, 6 times a year!
If you are interested in being a Food Donor or a Neighborhood Coordinator, please email Patti at patti@silvertonareacommunityaid.org or call us at 503.873.3446.