Thanksgiving Boxes
November 16

-

November 24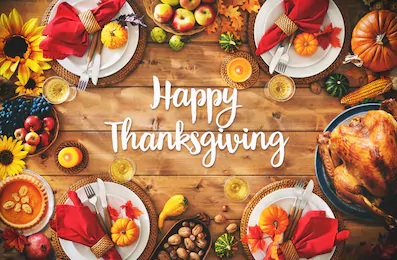 Click the title for more information. Haga clic en el título para obtener más información.
—————
Thanksgiving is on Thursday, November 26!
While things will look a little different this year, we are still offering our Thanksgiving boxes to those who are eligible to get food at SACA (see
https://silvertonareacommunityaid.org/get-food/#eligibility
to find out if you're eligible).
If you'd like a Thanksgiving box, there are two options:
1 – Pick up items for a Thanksgiving meal when you come to get food between Monday, November 16 and Tuesday, November 24 (during regular pantry hours).
2-For those who don't need to shop for food with us, who don't feel comfortable coming inside, or who cannot wear a mask or face covering, we are scheduling some appointments for Thanksgiving boxes to be brought to you outside. Call us at (503) 873-3446 if you would like to set up a scheduled time to pick up a Thanksgiving box.
Again, thank you for your patience as we figure out the best (and safest) ways to provide food and services during the covid-19 pandemic!
¡Acción de Gracias es el jueves 26 de noviembre!
Si bien las cosas se verán un poco diferentes este año, seguimos ofreciendo nuestras cajas de Acción de Gracias a aquellos que son elegibles para obtener alimentos en SACA (consulte
https://silvertonareacommunityaid.org/get-food/#eligibility
para saber si está elegible).
Si desea una caja de Acción de Gracias, hay dos opciones:
1 – Recoja artículos para una comida de Acción de Gracias cuando venga a obtener comida entre el lunes 16 de noviembre y el martes 24 de noviembre (durante el horario de despensa).
2-Para aquellos que no necesitan obtener comida de nosotros, que no se sienten cómodos al entrar o que no pueden usar una máscara o cubierta facial,estamos programando algunas citas para que le traigan cajas de Acción de Gracias afuera. Llámenos al (503) 873-3446 si desea programar una cita para recoger una caja de Acción de Gracias.
¡Otra vez, gracias por su paciencia mientras descubrimos las mejores (y más seguras) formas de proporcionar alimentos y servicios durante la pandemia de covid-19!